Bearing Stethoscope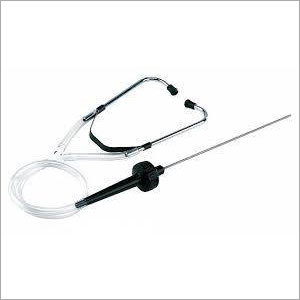 Bearing Stethoscope
Product Description
Bearing Stethoscope
We are Trader, and Supplier a wide range of Bearing Stethoscope in standard as well as customized forms. These Bearing Stethoscope are designed in accordance with international standards and also come in customized forms.
AUDIO-PHONE AIM-9
A diagnostic aid to identify and locate faulty or malfunctioning Steam Trape, Valves, bearings electric
motors etc.
It is light weight (200 gms)
Easy to carry (One can just hang it arround one's neek just as the Doctors do)
Ultra sensitive (It allows and amplifies the sound only of the item/component being checked & blocks
the noise from other equipments/components)
WHAT IS IT ?
Just as medical Doctors use Stethoscopes for diagnostic purposes, Engineers too can use AUDIO
PHONE AIM-9 to diagnose the faults in machine tools, steam traps, valves, motors bearings etc.
It even look like the Doctors Stethoscope but for its probe and a built-in amplifer.
HOW TO USE IT ?
Just hook it into your ears, put the probe on the machine component or a Steam trap, valve or
anything where there is mechanical movement or flow inside & hear the sound carefully.
HOW ONE MAKES USE OF IT ?
What can not be seen, can be heard. That is what doctors do. They hear the patient's problems
through theit stethoscopes. Likewise, Engineers can hear the audio signals of a faulty machine or its
components.One often talks about old mechanics who moments, after entering the plant could tell
where & what is wrong You dont have to grow old to do the same, Just hear the heart-beat of your
machines & equipments through-out Here are a few examples :- From a faulty steam trap one
would hear the hissing sound steam escapimg.
It would be quite different from what the trap is supposed to discharge.
In case of a leaky valve one would hear some sound even when it is completely closed. For a perfectly
closing valves there should be sound.
When in a properly running bearing, one would hear uniformly consistent sound of balls, rollers or
needles Rolling over lubricant film. Uneven or distorted sound is a signal of a problematic bearing.
Even in a motor when the carbon bushers are worn out, insulation is damaged, the sparking increases.
One can hear that too.
WHERE ALL IT COULD BE USED ?
While, it can be used, for a variety of ARIHANT INSTRUMENTS APPLICATIONS, some of them
are
Locating a faulty steam-trap
Spotting a leaky valve.
Checking malfunction of bearings, journals etc.
Detecting faults in machine tools or any mechanical equipment.
Identifying inefficient electric motors.
(P.T.O.)
Contact Us
39 Nagdevi Cross Lane, Botawala Bldg, Office No-2, 2nd Floor, Mumbai, Maharashtra, 400003, India
Phone :+918045800190