Automotive Bearing Stethoscope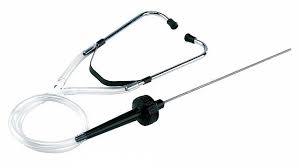 Automotive Bearing Stethoscope
Product Description
We have carved a niche in the industry by engaging ourselves in manufacturing and supplying quality assured Automotive Bearing Stethoscope. This stethoscope is manufactured using high quality raw materials that are procured from certified vendors of the market. Our offered stethoscope is made available in different sizes and specifications that clients can avail as per their needs. We thoroughly check this Automotive Bearing Stethoscope on various aspects like seamless finish and simple usage.

Various characteristics:

Easy to use

High material strength

Durability
Other details:

AUDIO-PHONE AIM-9
A diagnostic aid to identify and locate faulty or malfunctioning Steam Trape, Valves, bearings electric
motors etc.
It is light weight (200 gms)
Easy to carry (One can just hang it arround one's neek just as the Doctors do)
Ultra sensitive (It allows and amplifies the sound only of the item/component being checked & blocks
the noise from other equipments/components)
WHAT IS IT ?
Just as medical Doctors use Stethoscopes for diagnostic purposes, Engineers too can use AUDIO
PHONE AIM-9 to diagnose the faults in machine tools, steam traps, valves, motors bearings etc.
It even look like the Doctors Stethoscope but for its probe and a built-in amplifer.
HOW TO USE IT ?
Just hook it into your ears, put the probe on the machine component or a Steam trap, valve or
anything where there is mechanical movement or flow inside & hear the sound carefully.
HOW ONE MAKES USE OF IT ?
What can not be seen, can be heard. That is what doctors do. They hear the patient's problems
through theit stethoscopes. Likewise, Engineers can hear the audio signals of a faulty machine or its
components.One often talks about old mechanics who moments, after entering the plant could tell
where & what is wrong You dont have to grow old to do the same, Just hear the heart-beat of your
machines & equipments through-out Here are a few examples :- From a faulty steam trap one
would hear the hissing sound steam escapimg.
It would be quite different from what the trap is supposed to discharge.
In case of a leaky valve one would hear some sound even when it is completely closed. For a perfectly
closing valves there should be sound.
When in a properly running bearing, one would hear uniformly consistent sound of balls, rollers or
needles Rolling over lubricant film. Uneven or distorted sound is a signal of a problematic bearing.
Even in a motor when the carbon bushers are worn out, insulation is damaged, the sparking increases.
One can hear that too.
WHERE ALL IT COULD BE USED ?
While, it can be used, for a variety of ARIHANT INSTRUMENTS APPLICATIONS, some of them
are
Locating a faulty steam-trap
Spotting a leaky valve.
Checking malfunction of bearings, journals etc.
Detecting faults in machine tools or any mechanical equipment.
Identifying inefficient electric motors.
(P.T.O.)
WHY USE IT ?
CASE-I : BEARINGS
A host of machine tools, motors, compressors etc. are used by an industry, faulty bearings, worn
out moving parts etc. are usually repaired or replaced either at the time of planned shut down or when
there is breakdown. Breakdowns are always expensive. One can avoid them by bearing the warning
signals through AUDIO PHONE AIM-9. Such audio signals are given out by bearings, journals
rotating parts, for that matter by any moving part of machine, much before the actual failure occurs.
Once one has heard such a sound or noise, preemtive or corrective action could be planned.
CASE II : STEAM TRAPS
When steam is used for indirect hearing condensate is usually collected and returned back to the
boiler. It cuts down the fuel bill and reduces the water treatment cost. However, if the steam traps do
not, function properly it does cost much more in terms of steam loss than the savings intended.
Locating a faulty steam trap amongst many connected to the condensate return line particularly, is,
often difficult even where sight glasses are Installed. It is here one could profitable use AUDIO
PHONE AIM-9 to locate the faulty trap, Once identified it can be repaired or replaced
immediately.
CASE III : VALVES
Valves are often used on pipe lines carrying chemicals, fuels, compressed air, steam etc. It does
happen sometimes that the valves do not close perfectly. It could be because of some damage,
impurities etc. The result however is that valve steam does not sit properly on its seat and valve leakes
even when it has been completely closed. Apart from the loss of valuable materials, consequences at
times could be dangerous from safety point of view. It is therefore, worthwhile to periodically ensure
that valves are functioning properly, AUDIO PHONE AIM-9 can help you
in detecting the leaky valves.
WHO CAN USE IT ?
Every industry, Since no special skills are required it can be used by any body right from Plant
Manager,
Engineers to shop-floor workers.
IT SAVES many times more that it COSTS.
Contact Us
39 Nagdevi Cross Lane, Botawala Bldg, Office No-2, 2nd Floor, Mumbai, Maharashtra, 400003, India
Phone :+918045800190